PHOTOS THAT CAPTURE YOUR BEAUTY AND ELEGANCE,
your entire world
Our Wedding Photography & Video Studio transforms love stories into works of art. Our signature style that combines elegance and emotion, will provide you images to love and cherish for many years to come. Crisp, elegant images, perfect skin tones and pure emotion. Discover the magic of our work as a wedding photographer in Spain.
One of the greatest gifts anyone has given me.
I loved a lot of pictures of me for the first time
Crafting Unforgettable Moments: Your Wedding Photographer in Spain
Welcome to the world of wedding photography in Spain, where we specialize in capturing breathtaking weddings in the most remarkable spots like Valencia, Barcelona, Alicante, and the enchanting Granada and Málaga. As your dedicated wedding photographers in Spain, we embark on a journey that transforms your love stories into stunning visual treasures.
On your big day, we're not just photographers – we're your partners in creating beauty and embracing authenticity. Our lens captures the grace and beauty of your wedding, while our cinematic wedding videography in Spain adds an enchanting layer of storytelling.
This exceptional collection unites the vision of a wedding photographer in Spain and a dedicated videographer. Together, they craft a narrative that captures every splendid moment of your day. You enjoy an stress-free and elegant experience, while we document your extraordinary love in the most exquisite manner.
Artistic, storytelling Wedding Photography & Cinematic Films for the modern lovers
We are Wedding Photography Studio in Spain, based in Valencia
WEDDING
VIDEOGRAPHY
IN SPAIN
PHOTOGRAPHY & CINEMATIC FILMS
WE CAPTURE PRE-WEDDINGS, ELOPEMENTS
AND INTIMATE WEDDINGS IN SPAIN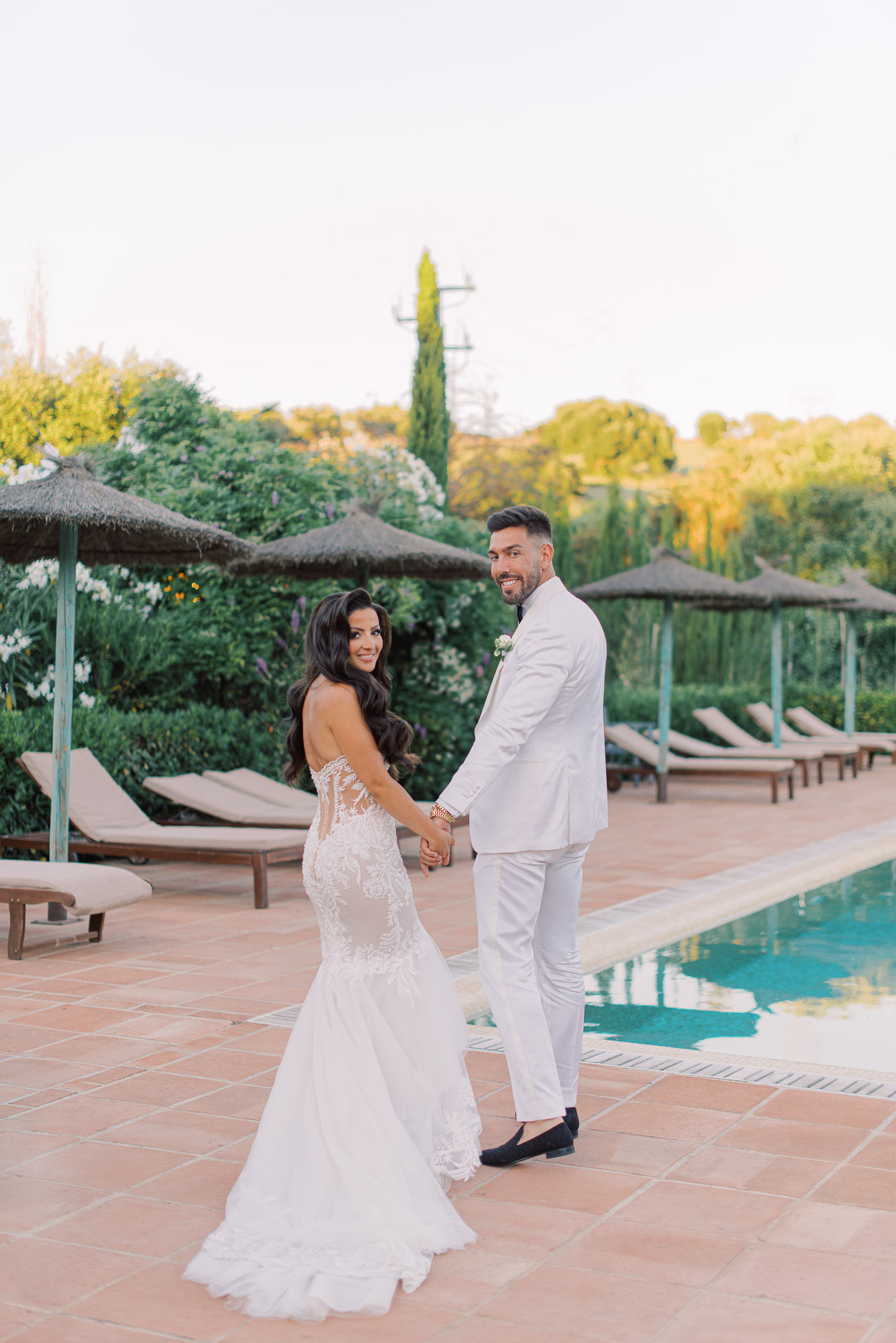 YOUR DESTINATION WEDDING IN SPAIN
FROM INTIMATE TO GRAND, WE'VE GOT YOU COVERED
Based in the vibrant city of Valencia, we find ourselves nestled close to Barcelona, Alicante, Ibiza, and Jávea. Our passion lies in outdoor weddings, where stunning vistas complement cherished ceremonies shared with close family and friends. Spain boasts an array of remarkable wedding venues, whether you dream of a beachfront celebration, an elegant Masia affair, or a destination gathering in Barcelona. Whether you seek an intimate villa wedding or a grand seaside event, Spain stands as a premier wedding destination in Europe.
Absolutely! We plan, select location and capture your itimate wedding in Valencia & Spain. Our wedding photographer in Spain team not only captures the moment but also helps plan the entire experience. From suggesting breathtaking locations to coordinating logistics, we ensure your wedding is flawlessly executed and utterly memorable.
DO YOU OFFER ASSISTANCE WITH PLANNING INTIMATE WEDDINGS?
Our tailored packages cover every aspect of your wedding, from the getting ready, ceremony cocktail and can go until the beginning of the dinner and first dance. We're dedicated to capturing your genuine emotions and crafting a stress-free, unforgettable experience.
WHAT IS INCLUDED IN YOUR WEDDING COLLECTIONS?
Please contact us by writing an email with your travel dates and details about your wedding and describe your needs. You will hear back from us within 48h.
HOW CAN WE BOOK OUR WEDDING COLLECTION WITH YOU?
WHAT SETS YOU APART FOR WEDDINGS IN VALENCIA AND SPAIN?
We pride ourselves on producing high-quality images and videos that beautifully encapsulate your love story. But beyond that, we focus on those perfect skin tones, romantic & crisp images an an unforgettable experience, making your destination Wedding in Spain truly unforgettable.